Quinphonic Festival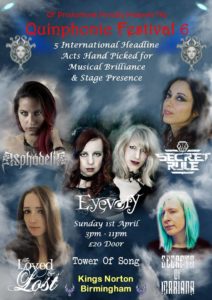 2018 is full of surprises: we will be playing at "Quinphonic Festival" in Birmingham! Because of two pregnancies within the group we had to delay our appearances on this festival. We're very glad that it worked out fine this time!
On April the first (no, it's not april fools!) we'll be playing our first ever concert in the United Kingdom!
So see you soon in the "Tower Of Song" in Birmingham.